Baby Angel X is coming to a Chelsea gallery in Manhattan. Visual Arts Gallery is sponsoring a show honoring some of their SVA Cartooning and Illustration faculty members and alumni. So if your in the New York area in October come check it out. It's a unique opportunity to see some comic book legends and there artwork . . . um and me to!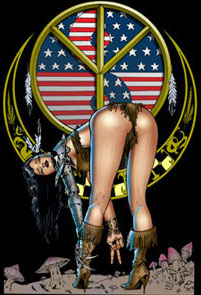 Come check it out, I'm gonna. Oh and if you can find my artwork at this show and send me a cell phone photo of you next to it, I'll send you a free character sketch.
Here's the press release from the School of Visual of Arts:
"Coming This Fall—Ink Plots: The Tradition of the Graphic Novel at SVA
October 9 – November 7, 2010
Visual Arts Gallery
601 West 26 Street, 15th Floor
New York City
It's been three decades since legendary cartoonist and former SVA faculty member Will Eisner coined the term "graphic novel," and since then the format has grown steadily in popularity and critical acclaim. The graphic novel's success is especially noteworthy as other print media have struggled for an audience in the face of blogs, Facebook pages and iPhone apps. Curated by Marshall Arisman, chair of the MFA Illustration as Visual Essay Department, and Thomas Woodruff, chair of the BFA Illustration and Cartooning Department, this exhibition of published works and original art by SVA alumni helps explain the format's enduring appeal."
Here's the full list of artists. it's huge.